The Gambia is, according to more and more tourism experts, the right winter destination for those who want to jump into the waters of the warm Mid-Atlantic even in December at a daytime temperature of around 30°C, the whole provided with a feeling of freedom that is now unusual for us. The sea here has a pleasant water temperature of 26 – 27° in December or January. "For me it's an exciting idea to jump Christmas in the warm waves of the atlantic. I think it is an option and much nicer, than to stay in cold UK and suffer from the rain and lousy temperatures", says for example Janet B. from Liverpool.


Eco Lodge Sanyang Beach with exemplary environmental protection ideas
The Eco Resort at the beautifully but lonely Sanyang Beach is an unique concept that offers an alternative to the traditional and conventional tourist attractions of The Gambia. This beautifully located Eco Lodge features an unique open restaurant overlooking the magnificent Atlantic Ocean and comfortably seats 60 guests. The view on the waves bring guests to heaven … so relaxing is this place!
The Eco Lodge opened in May 2021, when finally completed in November, this paradisiacal accommodation with the flair of Robinson Crueso's island will offer 20 cosy rooms. There offers also a bar nice drinks for the guests. Of course, free Wi-Fi is available. The rooms are tastefully decorated and all have private bathrooms with solar-energy powered warm water….
Special feature: each of the guestrooms have blinds and so you can actually sleep without sunlight disturbing your tired eyes in the morning. Each room will be a blend of traditional African elegance with typical Gambian yet modern amenities. The fan can be adjusted to any speed and operates very quite.
Vacationers actively support environmental protection in The Gambia
The location of the Eco Lodge is one of the most beautifully in all of West Africa. The Eco Lodge Sanyang Beach, which we visited now, has the great advantage that it is not so easy to reach. This protects this species-rich flora & fauna in the area. The Spanish operator Jose with his Gambian general manager Buba do everything possible to protect and preserve the beauty of the area and especially the beaches. Various plantings of useful trees are also planned, but they will be tended and cherished under organic standards. Cashew and mango trees, more coconut palms and so the future guests will be able to harvest their own organic fruits.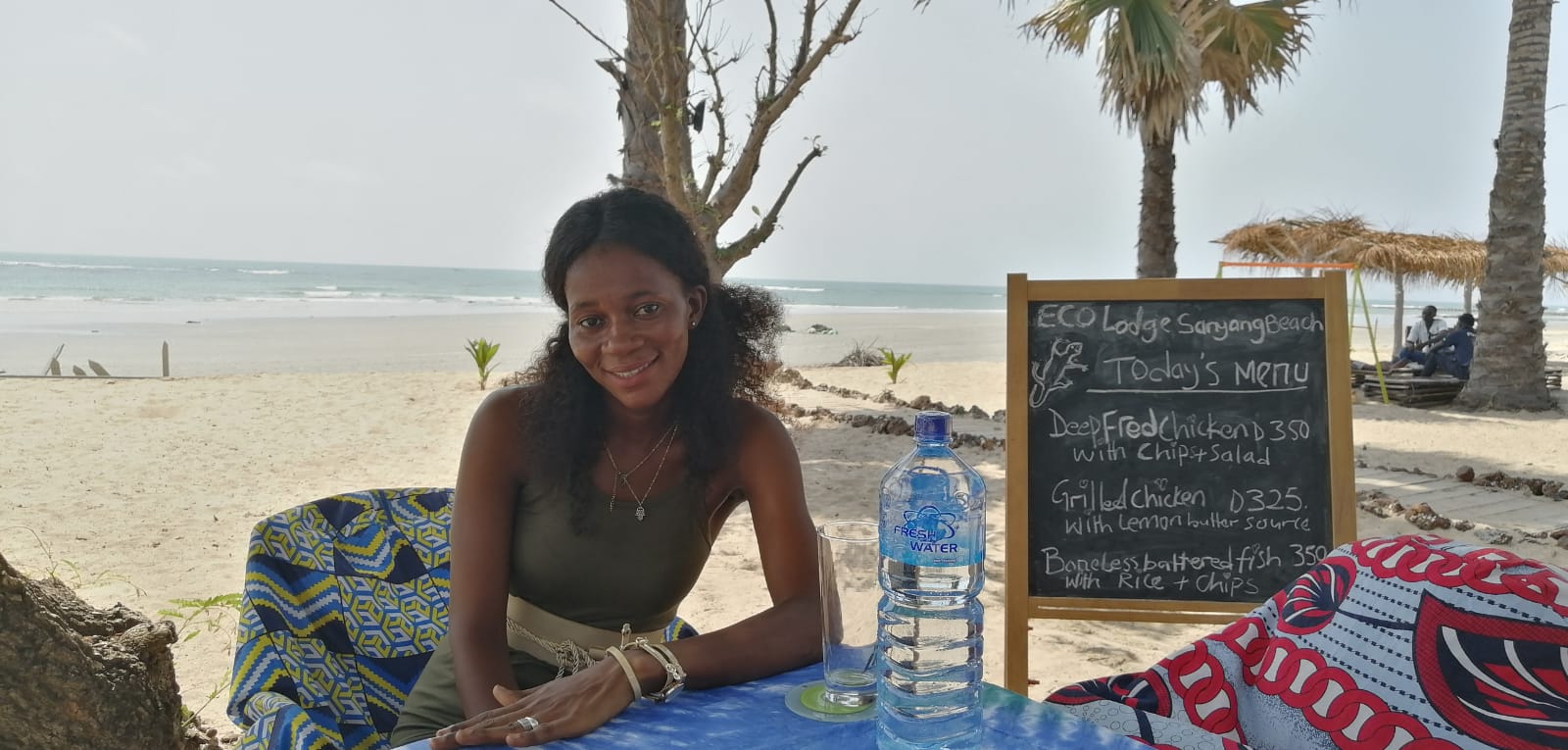 Finally plastic free? A mission of the Eco Lodge Sanyang Beach leads to the abandonment of many thousands of PET bottles
A revolution is also brewing in the abandonment of plastic bottles. Eco Lodge Sanyang Beach will soon be using a filter system that generates clean drinking water in glass water bottles. The guests get a "water flat", they can drink as much water as they want. However, no PET bottles are brought into circulation; instead, vacationers borrow a pretty Sanyang glass bottle and refill it as needed. This is how environmental protection works at Eco Resort Sanyang Beach in The Gambia. Many other actions are being developed, all with the goal of gently hosting people and generating the best possible experiences.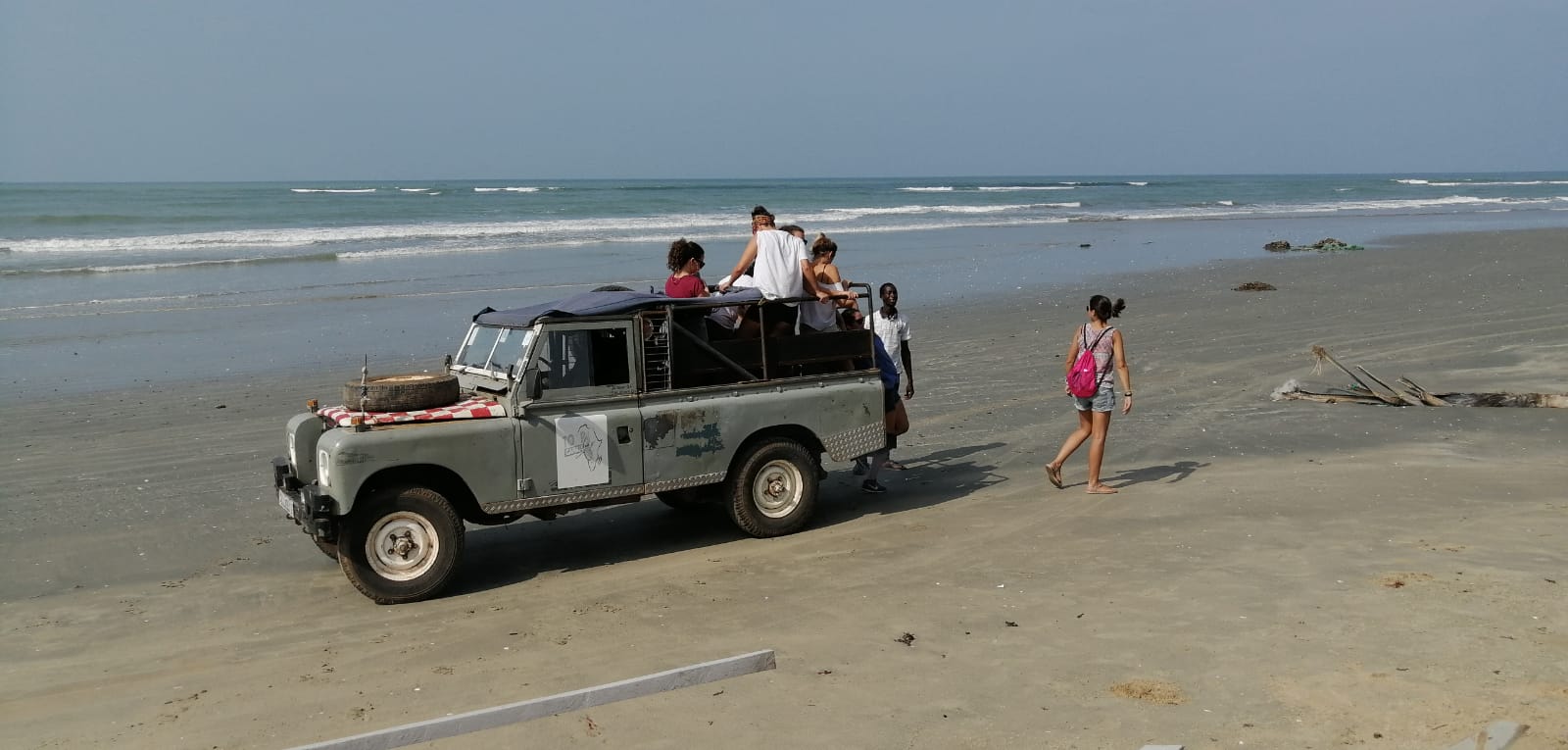 Other actions of the Eco Lodge:
Children are taught to treat the environment with care and avoid plastic as much as possible
Garbage collection campaigns are planned with the people of the area
Recycling is a priority at this exemplary Eco Lodge Sanyang Beach
The beach is protected as much as possible and people are educated about the importance of a clean beach.
Lonely beach invits relaxing tourists…
This also means that here the lucky traveler is alone with himself in nature. The beach here is a clean natural beach and impresses with its clear and warm water and – almost always – a wonderful warm breeze and, especially in winter, reliable hours of sunshine. Here the European visitor can swim in the sea and fill up on vitamin D even at Christmas days. The sea determines the well-being, in this place of leisure this impression becomes particularly clear.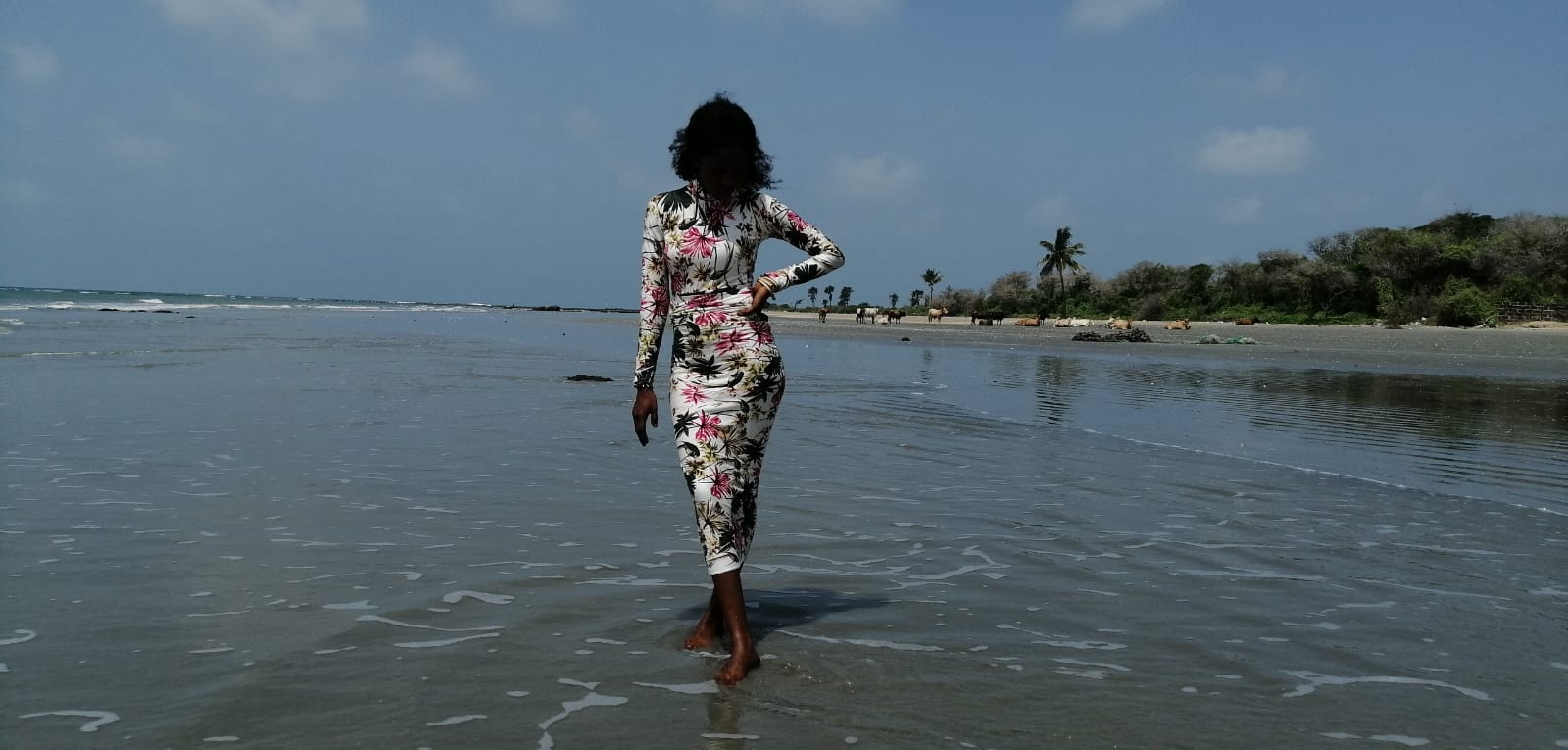 Protect the beauty of nature is not expensive
The price of a single room costs 18 £ including breakfast. A double room for a couple costs 33 £ per night with breakfast. Halfboard costs for a week 60£ for seven days. And food is tasty and healthy, far away from a fast food restaurant.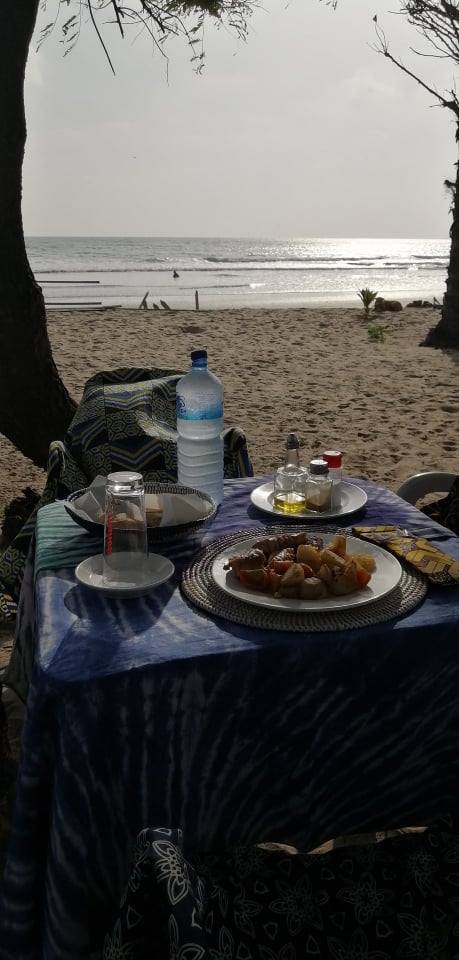 What elso you should know? Population of The Gambia is remarkably friendly, all speak English
The Republic of The Gambia is the smallest country on the entire African continent. It shines with what the author considers to be the friendliest population in all of Africa. In my opinion, the West African country can be described as a safe travel destination. The Gambia's area is only about 11000 square kilometers, which is a little bit more than London region). The coastline of almost 100km is partly deserted and beautiful. There are a considerable number of endemic animals and plants and even hippos, monkeys and crocodiles can be found here. About 500 spezies of birds you can find in this small country, amazing .. , isn't it?
A biodiversity unparalleled is the nature on the 700 miles long Gambia River
Over 500 species of birds, many of which are hardly explored and known, some even endemic live along this natural paradise. In addition, there are thousands of monkeys, hippos, crocodiles and fish of all colors and species. This is already very special and alone a good reason to visit The Gambia once.
The country is completely surrounded by Senegal except for the Gambian west st on the Atlantic Ocean. Gambia lies on both sides of the lower reaches of the partly picturesque natural paradise, the Gambia River, length round about 700miles. The river is also the namesake of the nation, flowing through the center of The Gambia and emptying into the Atlantic Ocean.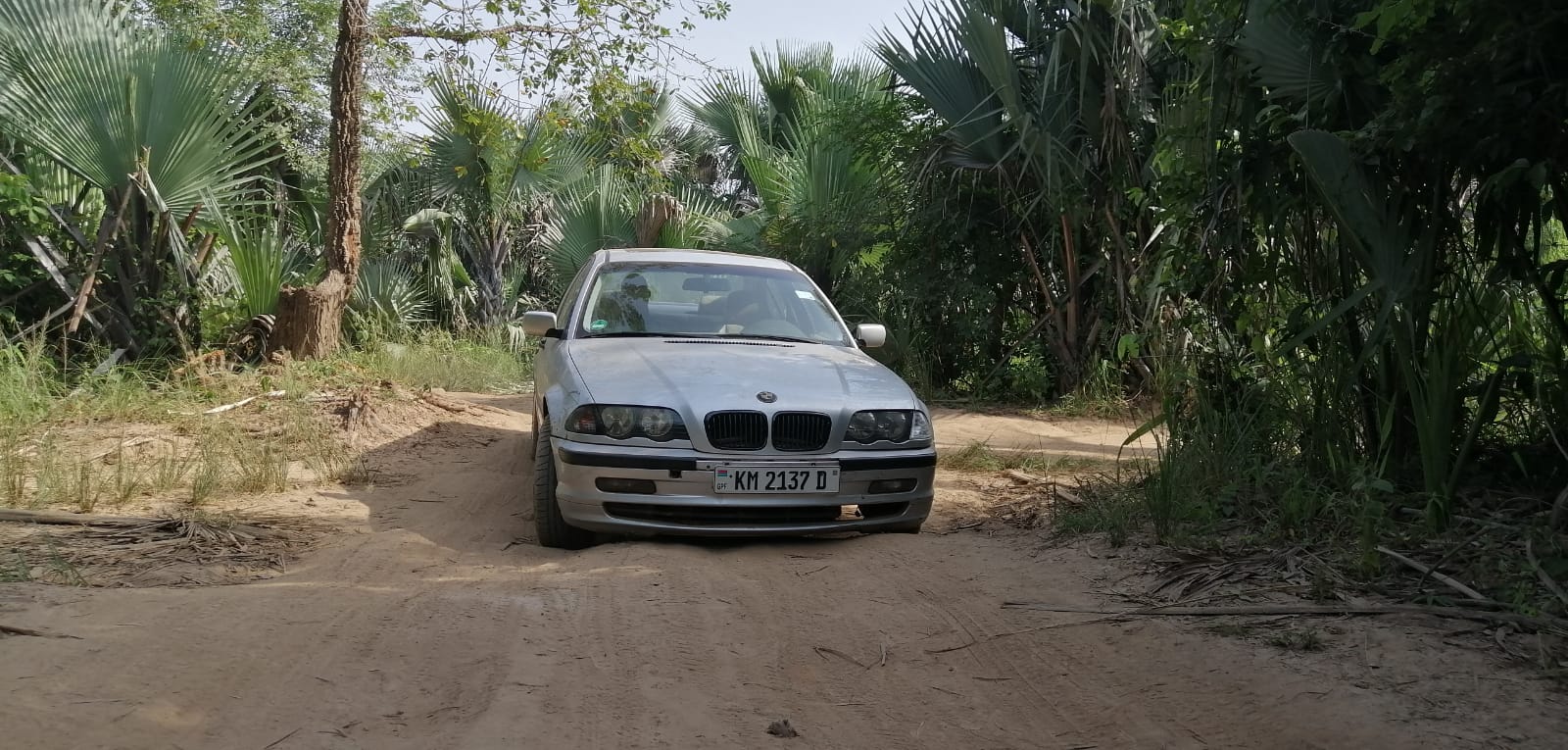 Infrastructure deficits
The small country has, according to an estimate by a Gambian journalist, a little less than 3 million inhabitants. Banjul is the capital and also the country's largest metropolitan area. Larger cities are Serekunda and Brikama. Of course, there are some things that do not work (so well) in The Gambia. The internet is slow, there are occasional power outages, and the infrastructure is nowhere near that of Europe. Payment of bills with credit cards are not common at all, even in better restaurants or supermarkets the traveler has to pay with cash. Only the best hotels offer this form of payment, which is common for Europeans or Americans. The ATMs usually only spit out a maximum of 2000 Dalasi (32£). Our team found one ATM in the greater Banjul area that spits out a maximum of 8000 Dalasi + 200 Dalasi for the use of the credit card (about 123£ plus 3£ fee). It is located in a gas station at the so-called 'turntable'.
Driving a cab in the capital is a bit of an adventure, negotiating skills are in order. Driving in the capital is exhausting. A car driver often … stuck in traffic jams. It's a good thing if your own car has air conditioning and a recirculation system. Because the exhaust fumes are not everyone's cup of tea. However, driving a car is generally quite problem-free; here, but cars drive on the right, just like in most countries in Europe. If you drive 180miles to Georgetown you'll enjoy the tour, low traffic and beautiful nature let you enjoy this African adventure…
Many roads are not yet asphalted and there are certainly many other aspects that apply generally to all of Africa and to The Gambia in particular. Again and again there are police roadblocks, but they are rather reassuring. Police have always been friendly in four months in traffic, but a small baksheesh is appreciated because of the low income of the police officers. A constable earns about 4000 Dalasi / month, which means he needs to make some extra money to survive….
A Spanish group of medical doctors speaks enthusiastically of the Eco Lodge in an interview (a nice but windy day):
HERE ARE SOME TIPS AND INFO FOR GAMBIA VACATIONERS.
Weather in November, December, January, February and March… warm and nice, most sunny. During the dry season in the winter and spring months, the sun shines almost every day from a cloudless sky and there is practically no rain. Daytime temperatures range from 21-29C.
In general, Africa experts such as Brighton resident Frank Mueller says: "the best time to travel to The Gambia is all year round. From January to December, as vacationers always have warm temperatures and no to moderate rainfall. The highest average temperature in The Gambia is 32°C in November and the lowest temperature is 29°C in February. The water temperature ranges from 23°C to 28°C on the Atlantic Ocean."
Recommended App:
Offline navigation in The Gambia with maps.me. Works well and takes into account different means of transportation. Just download the app on your phone, the map of Gambia as well and then … the so armed traveler can compile all sightseeing points with individual markers to an individual atlas. Very handy if you want to visit many points from time to time.

Travel recommendation:
from London or Amsterdam or Swiss, Austrian and German airports with any airline to Brussels, from there with Brussels Airlines directly to Banjul. Flight time approx. 7h with short stopover in Dakar. Airfare usually between 450-600EUR for the round trip. From London there are direct flights to Banjul starting in November, from 440 British pounds.

Website of the Eco Lodge:
https://www.ecolodgehawba.com/

So 
-welcome in The Gambia: 'The Gambia: The Smiling Coast of Africa 
'
Pressekontaktdaten:
BellaCoola Film Production UG (limited liability)
Mr Oliver Gaebe
Eythstr. 10
D-51103 Cologne
Germany
phone: +491796004547
web: http://www.bellacoola.de
email: bellacoola-liefert ((at)) die-besten-bilder.de
About Bellacoola Film Production UG:
Bellacoola Film Production UG from Cologne in Germany has become known as an experienced film production company with excellent references. Focus: Travel and science. Since a few years a department "Economy" has been added and deals with the reasons for the significantly decreased competitiveness of the German industry. Even future technologies, such as the aerospace industry, are not sufficiently supported, and politicians obviously lack the will to act.