Batumi –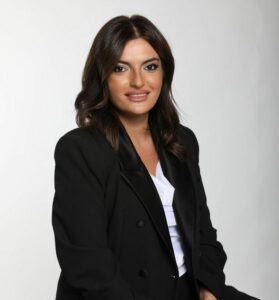 In this interview, the deputy head of the tourism authorities of Georgia, Ms Tamar Koriaui, reveals a lot of interesting facts about the small but extremely diverse country on the Black Sea. It is definitely an exciting natural, cultural and sporting paradise for holiday makers and, in addition to great beaches, beach promenades and monasteries of all kinds, also offers mountains of over 5000m in height. Where else can you find something like that?
GEORGIA IS HOST COUNTRY OF THE  TRAVEL TRADE FAIR 'ITB 2023 BERLIN' (Germany)
As partner country of the travel trade show ITB in Berlin, interested travel enthusiasts and tourism industry experts will have the chance to take a much closer look at this exotic yet European-looking country the size of Bavaria from 7 March. The small country in the South Caucasus is extremely multifaceted and promises adventures for all kinds of holiday enthusiasts. The land of adventures in nature….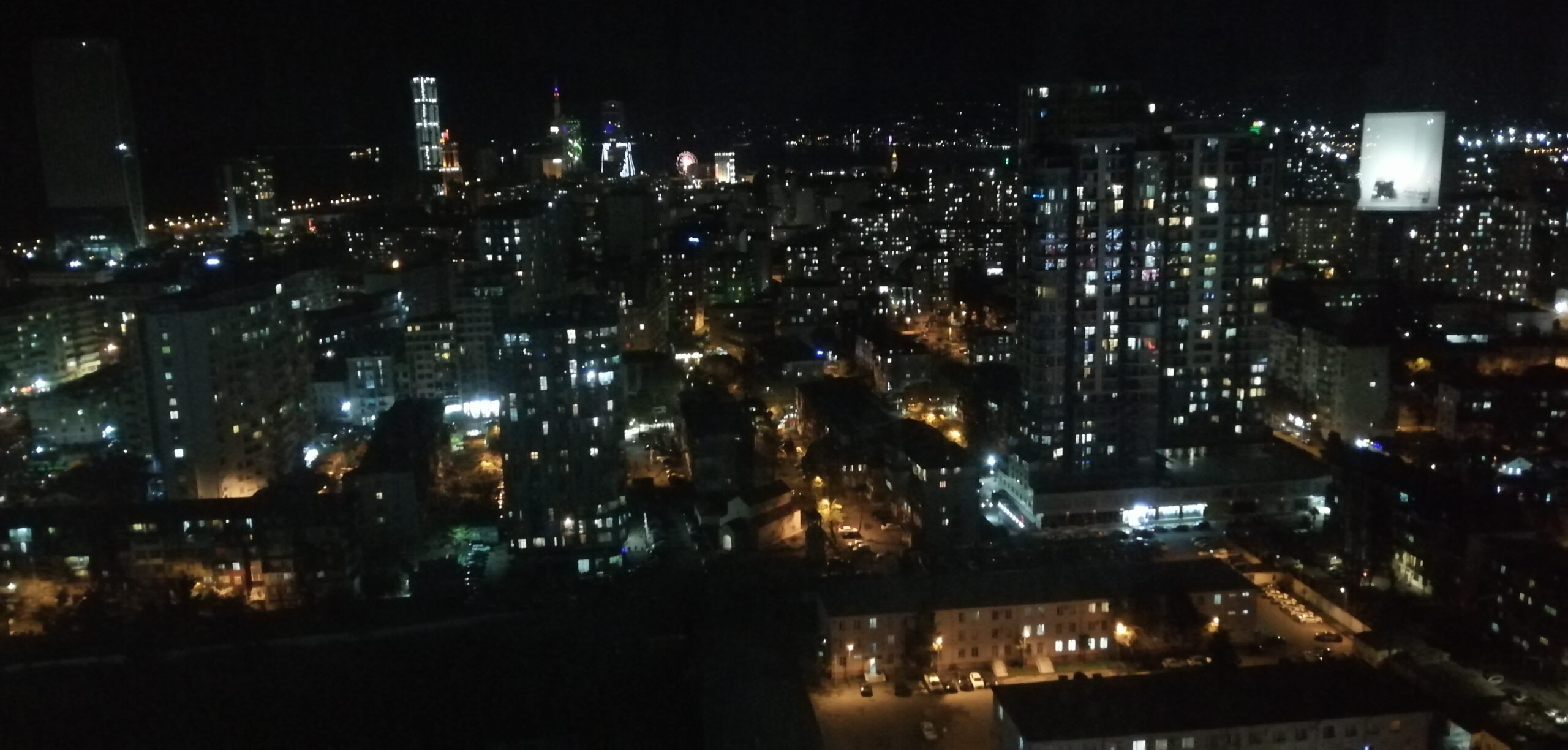 Geographically, Georgia is located in the Near East, but its own people sympathetically refer to it as the 'balcony of Europe'. Countless climate zones and landscapes underline the uniqueness of this small and yet extremely diverse country. Skiing is possible from October to May, downhill skiing or cross-country skiing, both are possible here in breathtaking surroundings and often in absolute solitude. And the country is safe for visitors, also good to know!
SPORTSMEN AND HIKERS FIND PARADISE HERE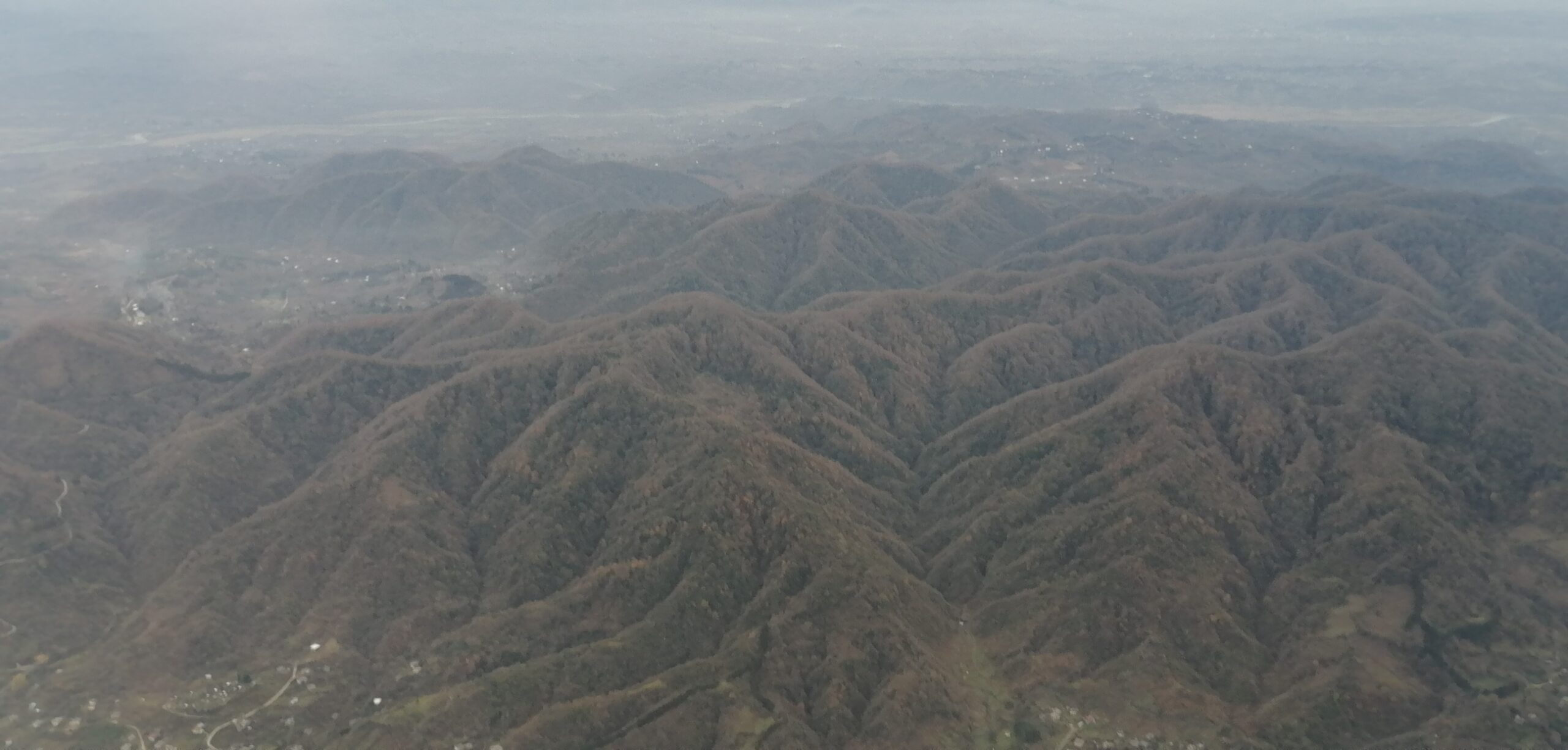 Georgia offers hikers and alpine athletes an incredible variety of mountains, e.g. the 5047m high glacier "Kasbek" puts Bavaria in the shade in many respects. When visitors from Switzerland, Austria or Germany travel to Georgia, their mouths are often agape. This is because the landscape of the Black Sea country to the east offers an extremely high level of biodiversity thanks to a wide variety of climatic zones. There are hardly visited and quite inaccessible valleys, these favour the development of endemic animal and plant species, to the delight of holidaymakers, biologists and botanists. Some mountain landscapes are reminiscent of South America's Atacama Desert, others could also be discovered in the Alps…
GEORGIA'S EXCITING BIODIVERSITY OF FLORA & FAUNA
Georgia has an incredible 4100 plant species, of which about 25% are endemic. Friends of animals of all kinds will also find what they are looking for here. There are 322 bird species, 84 different fish species, 52 reptile species and over 100 mammal species. Predators such as brown bears, wolves, lynxes and jackals can be admired as well as the (rare) Caucasian leopard. Asian lions and Caspian tigers are also said to be found, but no one has seen these magnificent cats of prey for years. Nevertheless, traces of these big cats have been discovered time and again, so maybe a clever biologist will be able to prove that a few of them have made it to the year 2023.
HIGH TIME TO GET TO KNOW GEORGIA
So it's time to introduce Europeans to this friendly country on the Black Sea. If the active holiday maker travels by train (e.g. from the capital Tbilisi to Batumi), he might confuse some of the country's regions with Switzerland. Therefore, it is ideal for the development of Georgia that the small country will come into the focus of the world's tourist public in 2023 through the ITB in Berlin.
In preparation for this extremely important tourism industry event for Georgia, I now have the pleasure of conducting an interview with Ms Tamar Koriauli. She is considered one of the leading experts in the Georgian tourism industry. We talk about the development of Georgia so far and also about the future of the permanently modernising Caucasus country.
Tourism is already a very important source of income for Georgia and will continue to increase the relevance of this industry in the future. The author is in Batumi in the Christmas days of 2022 and is amazed at the high occupancy rate of even the most expensive hotels in this booming Black Sea metropolis. For example, the "Radisson Blu Batumi" is fully booked over New Year's Eve 2022/23 despite the high room rates. Numerous new buildings in the luxury segment of the hotel industry and also in upscale hotels testify to the fact that the country will attract many more and discerning tourists in the future.
WHY ONLY A FEW EUROPEANS COME TO GEORGIA?
Europeans make up only a fraction of all travellers; most tourists currently come from countries such as Russia, Israel, Ukraine and other neighbouring countries. It is striking how peaceful the people are here, and from the most diverse destinations. That's why I can only report positive things about Georgia and think that soon many more Europeans will travel to Georgia. The Black Sea coast is really beautiful, the mountainous landscapes in the background prove that there is truly a lot to experience and see in Georgia.
INVITING: GEORGIA'S EASY ENTRY PROCESS, PASSPORT IS ENOUGH, ONE-YEAR RESIDENCE PERMIT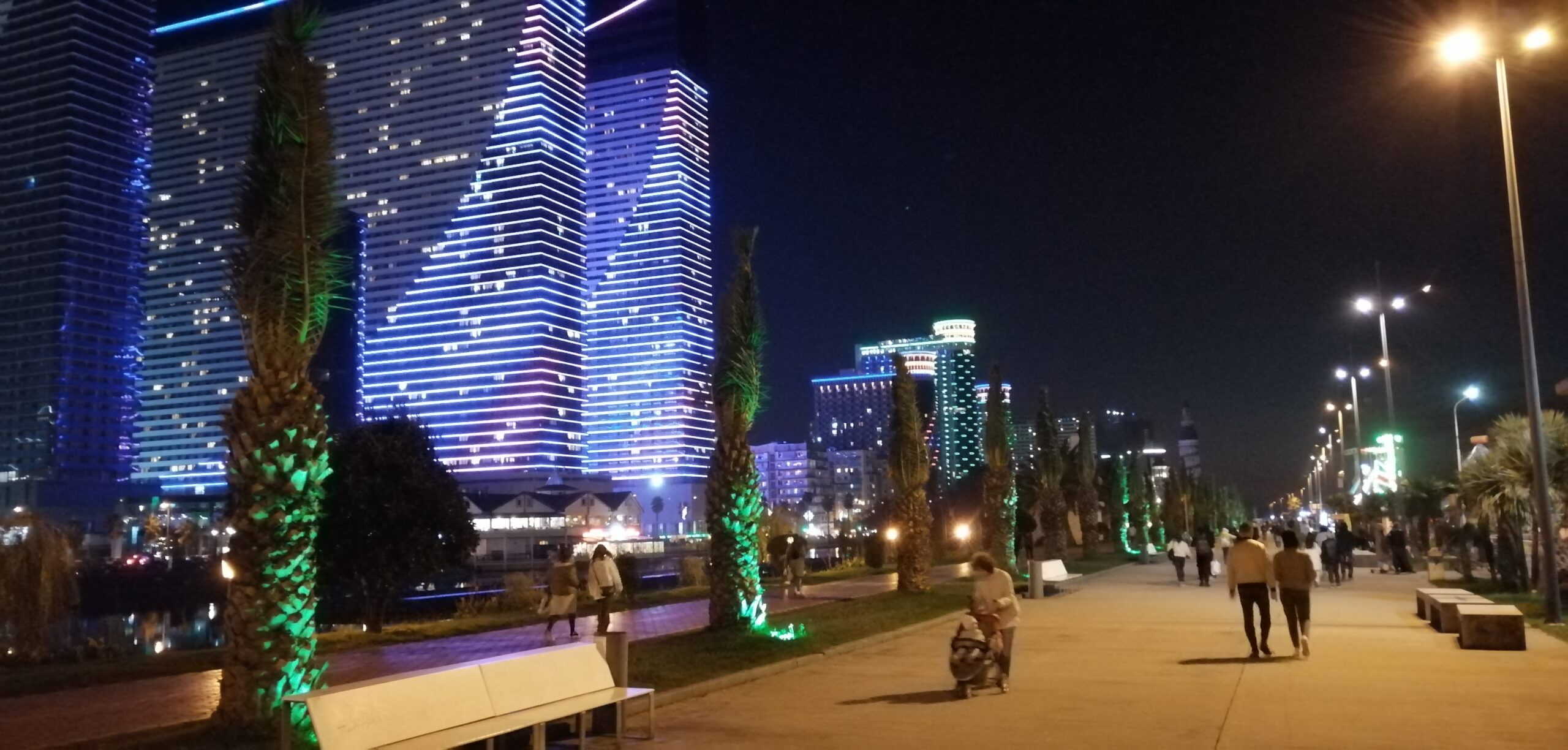 Getting here is hassle-free from all over the world; there are numerous flight connections, including some direct flights from German-speaking countries to Tbilisi, Kutaisi and even Batumi. Further advantages: Europeans receive a one-year residence permit upon entry. Passport drawn, stamped and … that's it.
GEORGIA THE NEW IMMIGRATION DESTINATION FOR MANY EUROPEANS?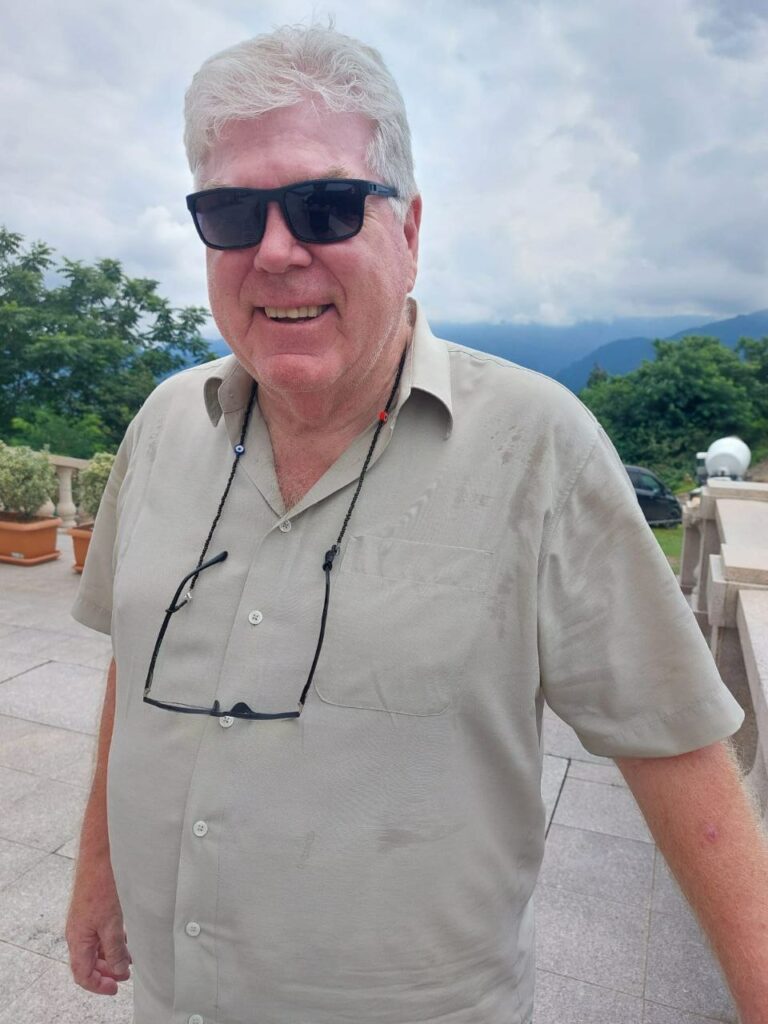 It seems so. A surprising number of Austrians, Germans and Swiss have moved to Georgia and especially Batumi in recent years. The trend has been rising sharply since 2020. In the picture we see an obviously very happy business man from Cologne, Peter K. He said: "I can't imagine to go back to Germany, no way. Here I feel free and safe. If I look at European cities and the rising crime rate….., I would be crazy to return." Some of the interviewees said similar statements, following about their reasons for moving to Georgia.
Reiner H. from Berlin, now Batumi: "People very nice, climate and landscapes are just as appealing, as are the government's tax and contribution policies. There is no gender nonsense here, but traditional family life. I like that!" His French wife adds, "The prices for fruit and vegetables are much cheaper than in Berlin or even Paris, and the quality of local produce is also much better, in my opinion." Similar things are heard from other mouths, for example, an entrepreneur from Vienna says: "I run my business from here with very fast internet and have now got the Georgian tax ID and also moved the headquarters of my company to Georgia. A good decision, because here the administrations are extremely cooperative." He laughs: "I was able to reduce my tax burden significantly. But it only works if you have a Georgian translator at your side. Not everyone here speaks English, so you have to speak Russian – or have a reliable local partner." There seems to be a whole team of consultants ready and waiting in Georgia, and their services are often in demand. The lean structures of the city administration also have a positive effect; everything works very quickly and cheaply here.

INTERVIEW WITH MRS TAMAR KORIAULI ABOUT GEORGIA's TOURISM INDUSTRY NOW AND TOMORROW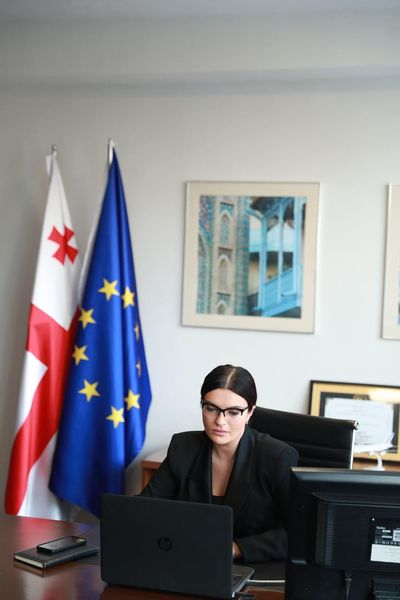 The deputy head of the Georgian Tourism Authority explains the success in tourism in the small country on the Black Sea. The personable tourism manager from Tbilisi has been working for the Georgian National Tourism Authority for decades and has been involved with the country's development for years. She now talks exclusively about the government's promising plans for the future of the travel industry in this booming country…
1 Oliver Gaebe, www.bellacoola.de
"Tamar, first of all, thank you very much for your time and the interview. How has tourism developed in Georgia since 2010? Is it true that many travellers from Europe keep finding their way to Georgia?"
Ms Tamar Koriauli, Deputy Head of the Georgian National Tourism Agency in the capital Tbilisi:

"First of all, Merry Christmas to Europe and thank you for taking an interest in our small but beautiful country. Tourism is one of the fastest developing and priority sectors of the Georgian economy and also one of the main sources of income for our country. In recent years, Georgia has become a respected tourist destination due to its dynamic tourism development and implementation of timely and successful reforms. Prior to the pandemic, Georgia experienced tremendous growth in the number of international arrivals. In 2019, the country surpassed a record 9.4 million visitors. The increase in travellers was largely driven by the entry of new airlines, impressive infrastructure improvement, diverse tourism products, marketing campaigns and development initiatives by the country. And yes, that is true: once Georgia, always Georgia!" (she laughs).
2 Oliver:
(nodding in agreement) "Thank you very much. Looking back at the last 10 years, which was the most successful year for Georgian tourism (in terms of number of visitors and/or revenue)?"
Tamar:
"Prior to the global pandemic outbreak, Georgia managed to become one of the fastest growing tourism destinations in the world, with a record result in 2019, when the country hosted a record number of visitors, three times its own population. As many as 9.4 million international arrivals visited the country in 2019, generating foreign exchange earnings of over USD 3.3 billion, accounting for 8.4% of Georgia's GDP."
3 Oliver:
"Tamar, why do you think and plan that more Europeans will travel to Georgia in the future?"
Tamar:
"In recent years, Georgia has become a popular destination due to its exceptional natural beauty, diverse topography, pleasant climate, unique cuisine, and rich culture and history, all of which offer great potential for tourism development. With the ITB 2023 partnership, we are putting a lot of money into it and firmly expect that it will also give a strong stimulus to tourism from the world and of course most from Europe."
GEORGIA ATTRACTS WITH SAFETY AND PARTICULARLY GOOD FOOD AND IS CONSIDERED THE CRADLE OF WINE WITH AROUND 8000 YEARS OF WINE CULTURE
Good wines can be found, for example, at the Radisson Blu Batumi. This costs 98 GEL (approx. EUR 35,-) and is considered excellent. The best wines from Georgia come from such growing regions as this historic resort like the Tsinandali Estate in scenically unspoilt nature. It is located in the Kakheti region.
Tamar Koriauli continues: "Moreover, Georgia today is a dynamic and safe European-style country that offers a variety of tourist services and a unique tradition of hospitality. Thanks to its strategic location, Georgia is easily accessible from various places. The country is only a 3-hour flight from Brussels, Amsterdam, Berlin or Zurich, which makes travelling to Georgia from European countries even more convenient and easy. As mentioned above, Georgia offers its visitors a variety of products that take into account the country's rich biodiversity, resorts, culture and centuries-old history. The main products and offers include:
– Nature & Adventure: Georgia is very proud of its unique and diverse nature, ranging from the mountains of the Caucasus to seaside resorts, from rainforests and wetlands to semi-deserts. The country has 94 protected areas of international importance, and I can proudly say that four protected areas have been added to the UNESCO WNH list in 2021.
– Cultural heritage: Georgia offers not only extreme biodiversity in nature, but also in its unique culture and centuries-old traditions. The earliest human fossils from Europe (dating back an incredible 1.8 million years) have been found in Georgia. Also worth mentioning are the Georgian language and the Georgian alphabet, which is one of 14 alphabets in the world. And, of course, Georgian hospitality – we firmly believe that our guests are sent by God and therefore treat them especially well.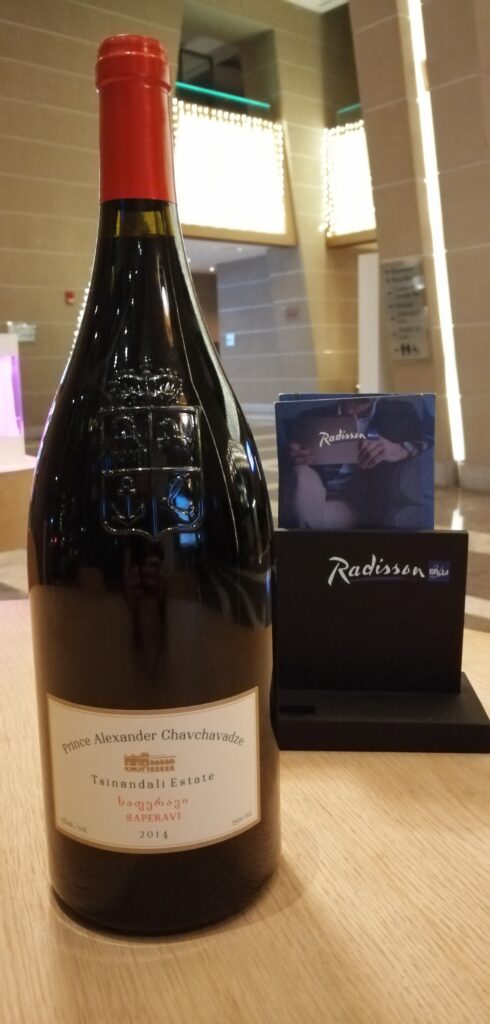 – Excellent wines and Georgian cuisine: Food is prepared very skilfully here, as many Europeans who love to travel know, but the authors only learned here that Georgian wine has such a historically grown importance and has always been very popular with international travellers.
Example: This 2014 red wine from a renowned label costs 300 GEL (about EUR 106) at the Radisson Blu Batumi. It is considered 'first class'. Gastronomy and wine tourism is indeed one of the most popular tourism products among our visitors. It shows enormous potential for development. Georgia is generally considered the "cradle of wine" with an 8000-year history of viticulture, which makes the country proudly the birthplace of wine. In a later article, I will focus on an old-school Georgian winery. Tsinandali Estate seems to be one of the top locations in Georgia. The resort has the finest wines in its cellars. The authors were unaware that this small country has such an intimate and historic connection to the best wines on the planet!
– Health & Wellness: Georgia offers competitive health and wellness products. Well-developed spa and wellness resorts can accommodate you and your friends and families most decently.
– Seaside resorts: Georgia has 13 seaside resorts with different types of beaches. Summer at Georgian seaside resorts starts as early as May. There, every traveller can discover a range of activities for all ages and interests.
– Conferences and trade fairs: Business tourism is of growing importance. Together with the private sector, international events, conferences, forums and exhibitions are being brought to Georgia to make the country a meeting place for business events."
4 Oliver:
"That sounds impressive. Mrs Koriauli, what do you think are the six most popular tourist destinations and cultural sites in Georgia?"
Tamar:
"Definitely Tbilisi, Batumi, Telavi, Mtskheta, Kutaisi, Mestia".

5 Oliver:
"From which 10 countries of origin do visitors to Georgia currently come?"
Tamar:
"After the eleven months of the current year, the top ten countries by number of visits to Georgia are 1. Russia (997,744); 2. Turkey (726,437); 3. Armenia (666. 412); 4. Israel (194,583); 5. Ukraine (156,485); 6. Azerbaijan (138,253); 7. Belarus (124,599); 8. Saudi Arabia (117,190); 9. Kazakhstan (114,747); and 10. Iran (96,057). There are still not many Europeans visiting us, but we want to change that now. At ITB 2023 in Berlin, as the partner country of the travel fair, we will present an impressive variety and show about Georgia to the astonished tourism world."
6 Oliver:
"Let's take a look at the German-speaking region of Georgia visitors. How many Swiss, Austrian or German holidaymakers have been to Georgia in the last 10 years?"
Tamar:
"In the period 2012 – 2022 (including November) our country was visited by 61,824 Austrian visitors, 411,066 German visitors and 47,875 Swiss visitors."
7 Oliver:
"And what is the average length of stay of a German-speaking holidaymaker?"
Tamar:
"The average length of stay for German-speaking visitors is 10 nights. Much longer than visitors from neighbouring countries, for example."
8 Oliver:
"How did the travel industry in Georgia develop during the Corona crisis between 2020 and 2022?"
Tamar:
"The Georgian tourism and hospitality industry, much like the rest of the world, has faced serious challenges as the tourism sector has been severely damaged by the negative impact of Covid-19. To ensure that Georgia's fastest growing industry continues to contribute to economic development, the Georgian government has devised various recovery measures, with tourism a priority pillar in post-crisis and economic recovery plans. Since the first day of the crisis, the country has supported the tourism industry with various benefits and programmes, including several programmes to address the negative impact of the pandemic outbreak. Measures included infrastructure spending and tax exemptions, which benefited Georgia's recently booming tourism industry.
In addition, the Georgian government introduced a "large-scale regeneration programme" for the Georgian regions, which includes numerous infrastructure projects. After two years that were very challenging for the tourism sector due to the pandemic, there were several positive developments for the Georgian tourism sector in 2022. In the last four quarters of the current year, positive indicators of tourism and aviation recovery were recorded. We are pleased to observe the dynamics of the significant recovery of international visitor numbers in the country. In the 11 months of 2022, the recovery rate of international travellers reached 55.9% and the recovery of tourist trips reached 70.2% (a total of 4,862,247 international travellers), while the recovery of travel receipts in 11 months is 103.5% compared to 2019. The prospects of a recovery in the tourism sector have also led to a significant upturn in the aviation industry. And our architecture is anything but boring. We want to impress … and we are doing that quite well, aren't we?"
9 Oliver (nodding in agreement):
"Yes, definitely. What major tourism milestones do you expect for Georgia in the next five to ten years?"
Tamar:
"Based on the effective fulfilment of the main goals for the development of the industry, such as further development of tourism infrastructure, facilitation of travel, comprehensive promotion of the country, improvement of service quality, and creation of new niche tourism products in line with the principles of sustainability."

10 Oliver:
"How do you see Georgia in terms of tourism in 2030?"
Tamar:
"Based on the country's aspirations to become a premier year-round destination attracting many international travellers, as well as the comprehensive and thorough industry development strategies and the Georgian government's long-term vision for tourism development, I believe that by continuing to implement the relevant innovative initiatives and creating attractive investment opportunities, the industry will reach the stage where key goals and objectives are met, leading to further effective diversification of tourism products and services, making them more sustainable and thus attracting tourists with a greater diversity of interests.
In terms of economic benefits, the employment rate in the sector will steadily increase, securing and improving the well-being of its own population. In addition, tourist resorts will have more opportunities to offer competitive, high-quality attractions for four seasons, boosting the flow of tourists into the country. And, of course, tourism infrastructure will be further developed to ensure tourists have a pleasant stay. All this will be accompanied by the introduction of more leading international brand hotels, served by new airlines that will provide better connectivity to new destinations. We have another arrow in our quiver, which we will be happy to explain to interested travellers at ITB 2023 in Berlin. Dear readers, visit Georgia and let yourself be enchanted by a multifaceted, almost European destination in the south of the Caucasus. We are really looking forward to seeing you!" Tamar smiles and adds, "In Georgian it looks like this: "კეთილი იყოს თქვენი მობრძანება საქართველოში!"
Oliver:
"Tamar, thank you very much for the interview and good luck for tourism in Georgia."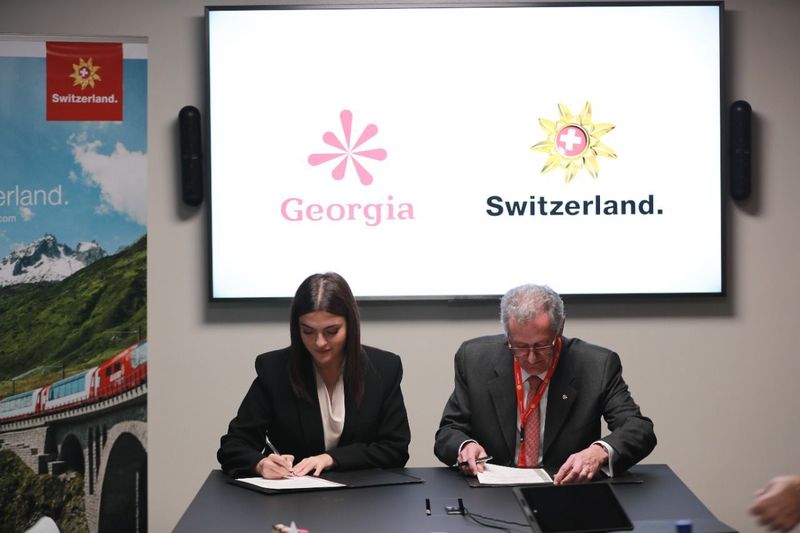 A ❤️ for the Caucasus!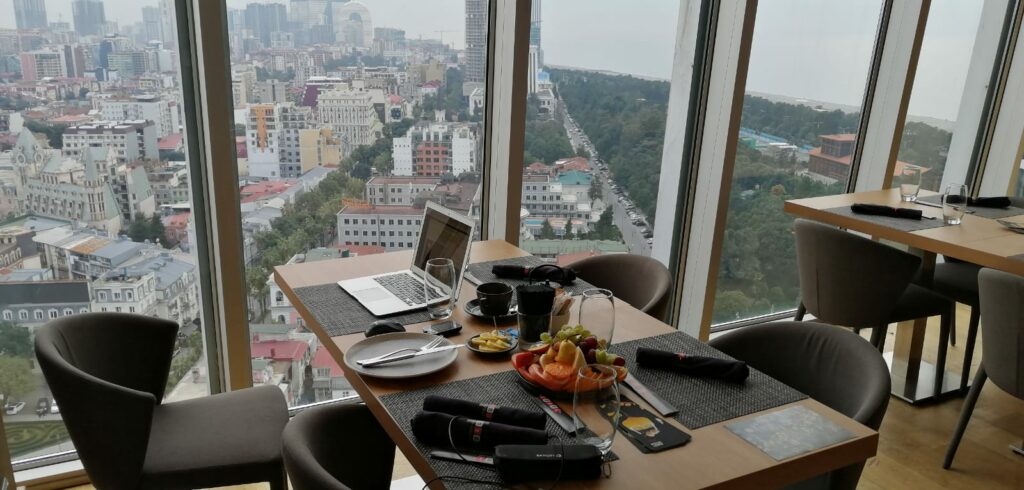 Pressekontaktdaten:
BellaCoola Film Production UG
Eythstr. 10
D-51103 Cologne
Germany
Article written by Isatou Camara, a Gambian Junior Tourism Consultant and Oliver Gaebe, Travel Journalist
E-Mail: bellacoola-liefert (@) die-besten-bilder.de
Fon: +491796004547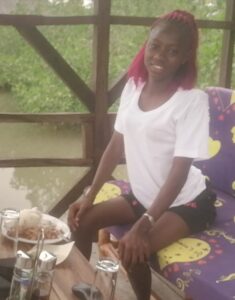 Article written by Isatou Camara, a Gambian Junior Tourism Consultant and Oliver Gaebe, Travel Journalist Welcome at 'The Smiling Coast of Black Sea' Bellacoola Film Produktion UG has become known as an experienced film production company with excellent references. Tourism and travel is one of the main focuses. Since a few years a department "Economy" has been added and it deals with the reasons of the significantly fallen competitiveness of the German industry. You can use this press release – also in changed or shortened form – with source link to our homepage on your website free of charge.